Harley Davidson Air Filter Cover Insert - Johnny Cash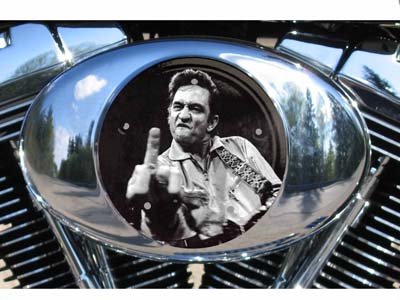 Harley Davidson Air Filter Cover Insert - Johnny Cash
Johnny Cash - Air Cleaner Insert for Harley Davidson
These custom air cleaner inserts fit the standard oval Harley air filter covers. They come complete with the unique mounting kit which uses the center bolt from the present mount and changes it to a 5 screw mount. What this gives you in a fresh look along with your choice of graphic from our extensive range!
Our covers are made from machined billet aluminum to ensure strength and quality! This is a high quality powder coated part using our unique "gas infused" coating technique to apply the image and make a hard wearing custom part!
NOTE: As all parts are made to order and while we try to get orders out to you as quickly as we can, we ask that you please allow 2-3 weeks for delivery.
Make sure you check out our range of Derby Covers, Timing Covers, Fuel Doors, Horn Covers and Inspection Covers to complete your whole custom look!
We will be continually adding more parts and designs to our ranges so come back and check us out for all our new stuff. Alternatively you can follow us on Facebook where we will be updating and showing off new products all the time.
Reviews